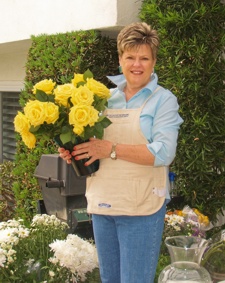 Blossoms by Cherry was founded by interior and design expert Cherry Henricks
Cherry's interest in flower design stems from 25+ years owning and managing Two's Company Interiors, a 25 person company specializing in designing and installing model homes and sales offices for new housing developments. The company has won over 50 regional and national design awards. Cherry understood that color and design principles apply to many disciplines, and she always found it rewarding to contrast her careeer of designing large interior spaces with intimacy of working with delicate flowers as a hobby.
In 2008 Cherry indulged in her passion for floristry and opened Blossoms by Cherry, specializing in providing flowers for weddings, parties and events. Blossoms by Cherry quickly became recognized for the same high level of design creativity and customer service that has been the hallmark of Two's Company Interiors since its inception.
Cherry is a member of ASID (American Society of Interior Designers) and a past member of the Color Marketing Group which specializes in color forecasting. She is a past president of the LA/Ventura Sales & Marketing Council within the Building Industry Association and was inducted into that organization's Hall of Fame. She is a graduate of Cal State Northridge and completed the professional floristry program at Pierce College while gaining practical experience working part-time for a retail florist as well as several independent florists. Since opening her floral business, Cherry has been recognized for her talents by being selected as Best Florist by the readers of the Los Angeles Daily News each year since 2011.
Cherry is an avid reader and world traveler and loves nothing more than an early morning walk through a flower market anywhere in the world.